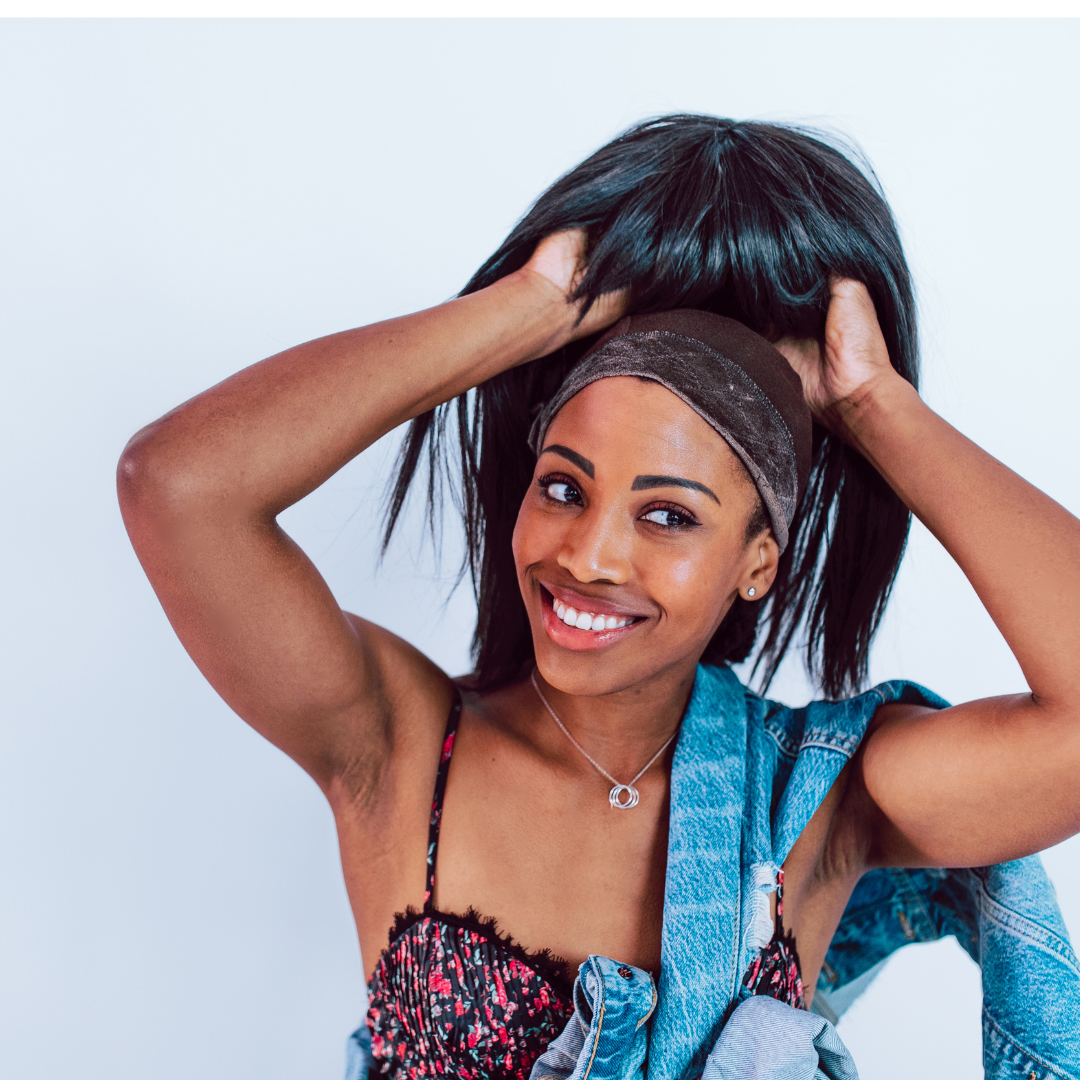 Lace wigs for black women. All you need to know
 "The Benefits of Lace Wigs for Black Women"
Hey there, gorgeous! If you're reading this, chances are you're considering a lace wig. And let me tell you, you are making an excellent choice. Lace wigs are perfect for black women who want to slay with a natural, realistic look. Usually, the lace base of a lace wig is nearly undetectable. This means it looks like the hair is growing right out of your scalp. If you choose HD lace then baby, nobody can tell you anything, because we cant see anything! Thick swiss laces may be more noticeable but all you gotta do is tint that thang correctly.  Plus, with a lace wig, you can switch up your style any time you want - straight, curly, braided, you name it.
But the benefits of lace wigs don't stop there. They are also super versatile and can be worn in a variety of hairstyles to suit any occasion. Whether you're heading to work, a fancy event, or just running errands, a lace wig has you covered. And because they are made with high-quality materials, they are durable and can last for a long time with proper care.
"How to Choose the Perfect Wig"
So, you've decided to go for a lace wig, but with so many options out there, how do you choose the perfect one for you? Don't worry, girl, I've got you covered. Here are a few things to consider when selecting your lace wig:
First up, the type of hair used in the wig. You've got a few options here - synthetic, human hair, heat-resistant synthetic hair - each with its own pros and cons. Synthetic hair is a more affordable option and is easier to maintain, but it may not be as durable or realistic-looking as human hair. Human hair wigs are more expensive but offer a more natural, realistic look and feel, and they can be styled in a variety of ways. Heat-resistant synthetic hair is a good choice for women who want to be able to style their wig using heat tools, but it may not be as durable as other types of hair.
Curly hair, straight hair, kinky hair you name it! A big trend for us black queens right now is the kinky straight hair wigs with the coily baby hairs! Absolutely amazing and we hand make these types of wigs right here at the wig gurus. Simply send us an email and we can custom make any lace iece you desire. 
"How to Choose the Perfect Lace Wig for Black Women" 
Color is another important factor to consider when choosing a lace wig. If you want a wig that looks as natural as possible, you might want to go for a color that matches your natural hair. Or, if you're feeling bold, why not try out a different color and rock a new look? Just be sure to choose a color that complements your skin tone. Fir warm undertones go for cool blondes and browns. For cool undertones, warm up with some golden highlights! 
The density of the wig is also an important factor to consider. Wigs are available in different densities, ranging from light to medium to heavy. The density that you choose will depend on your personal preference and the look that you are trying to achieve. A lighter density may be a good choice for a more natural, subtle look, while a heavier density may be better for a fuller, more dramatic look. Again, we can customise you wig to any density you like. Email us today! 
Finally, don't forget to check the cap size of the wig. A wig that is too large or small can be uncomfortable to wear and may not look as natural as one that fits properly. Most wigs come in a standard size, but some brands offer wigs in different sizes to accommodate different head shapes and sizes.
 "The Benefits of Lace Tinting for Black Women"
Lace tinting is a game-changer if you want to make your lace wig look even more natural. We are proud to be at the forefront of this revolution. 5 years strong in the lace tinting game we provide the most luxurious professionally all-natural formula there is on the market! 
The process involves dyeing the lace base of your wig to match the color of your scalp and surrounding skin. Not only does it create a seamless, natural-looking hairline, but it also makes the wig more comfortable to wear as it synergized with healing botanicals. And, bonus - it can hide any imperfections on the lace base and protect your wig from environmental damage.
So, if you're considering a lace wig, you might want to think about getting it lace tinted. Trust me, it's worth it.
Conclusion:
Lace wigs are the perfect choice for black women who want to achieve a natural, realistic look with their hair. They are highly versatile and can be worn in a variety of hairstyles, and they are made with high-quality materials that are durable and long-lasting. When choosing a lace wig, it's important to consider the type of hair used, the color of the wig, and the density of the wig.
Have fun with it ladies! And remember, it's just hair!