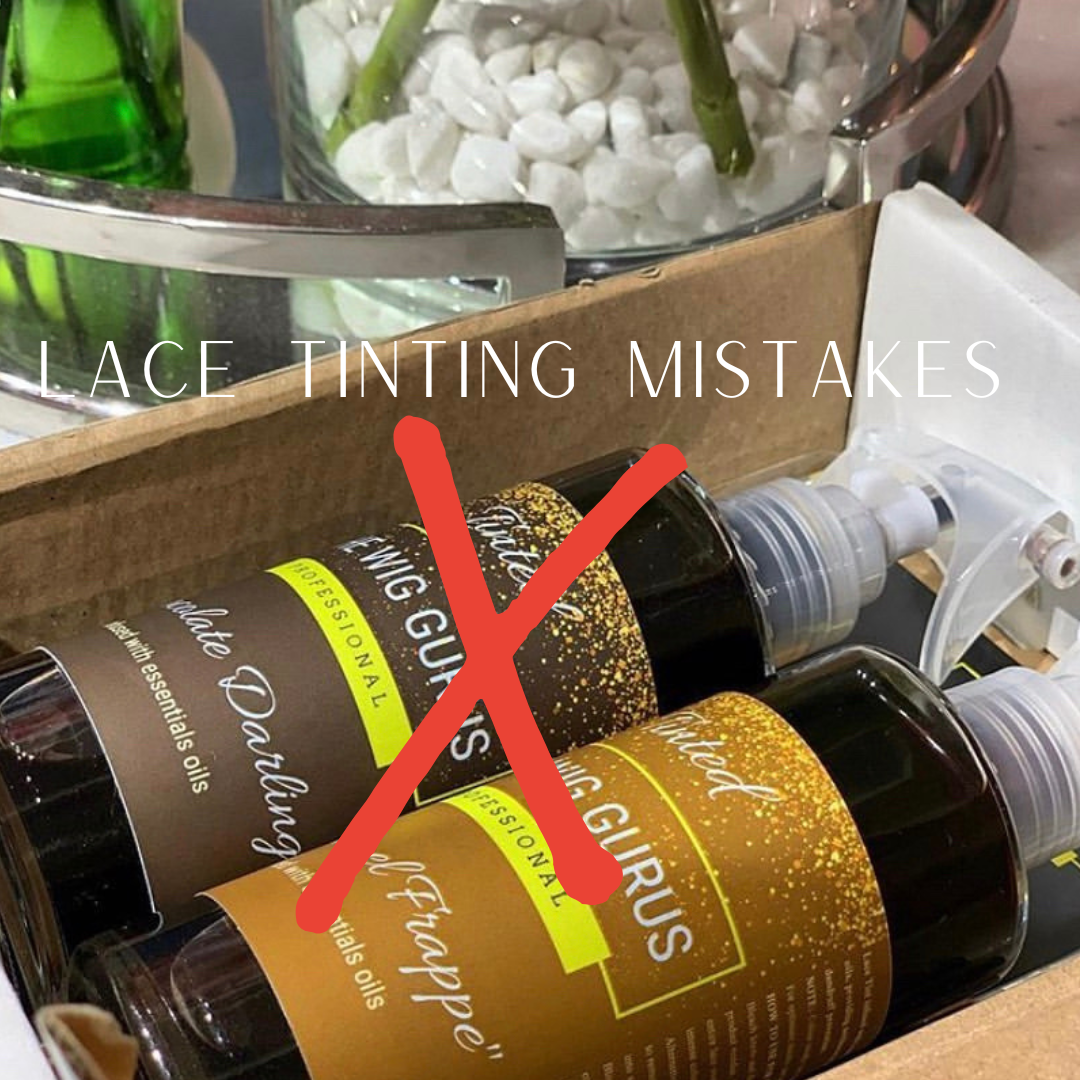 Common mistakes when tinting your lace
Lets take a look at some of the most common lace tinting mistakes. You can a free shade match here if you are unsure! 
1- Wrong lace colour
One of the most common mistakes is clients picking a lace with a colour being too dark. If in doubt, always go for a  a light brown or Transparent lace. . The lace will still tint if its too dark, however the resulting shade will also be too dark. This is regardless if you use the lightest shade. The end result will be completely visible and way too dark even though for example,caramel frappe is ideal for their skin tone.
2- Picking the Wrong lace tint shade
Some clients just get completely overwhelmed and lost when it comes to picking their shade, but that is OK, because if you don't have the correct knowledge it becomes very difficult. If you want to recommend a shade to your client, either let them get in contact with us directly if using our range or, assess their undertone with the (worksheet) provided and try and advise them yourself if you feel you can.
3- Failing to tint the whole lace area
We have seen it over and over again. Individuals who just like to tint the very front hairline. Now there is nothing wrong with this, however we wouldn't recommend it. Why? Well even though the cap method is great at adding to the scalp effect, if the whole lace area is tinted correctly, clients can enjoy wearing their units without the wig cap if they wish.
4- Not Mixing or customising shades
Clearly one size does not fit all as you will discover throughout this book. It's also not always necessary to mix shades for every client, sometimes it is simply a case of using more of one shade.
However, a good portion of clients would benefit from mixing shades if the tint is looking a bit "off"
5- Not toning after bleaching knots
We believe this point can make all the difference to tinting. When you bleach the knots on your lace, you will either get a yellow or orange tone. This is synonymous with bleaching dark hair. What is important is to prevent the bleach seeping onto the hair shafts and colouring the hair there. When the tint goes onto the hair, it just does not look good. The only time when this would be great is if you are dealing with a blonde unit. We have had stylists use chocolate darling and caramel frappe on them to create "roots''.
The trick is to getting roots on a blonde unit is to use short quick bursts of colour.
everyday
To counteract the orange tones you need a blue-based toner to neutralize the colour, and for yellow tones a purple-based toner is required. If you fail to do this what will happen is that the lace tint will stick to that base colour. For example, if you use Finest mocha, it will make the tone even more vibrant if the base colour is orange. If you use chocolate darling, it will give it a warm
undertone.
So the key is to.... Neutralize Neutralize Neutralize!